This is a Sponsored post written by me on behalf of iBulb for SocialSpark. All opinions are 100% mine.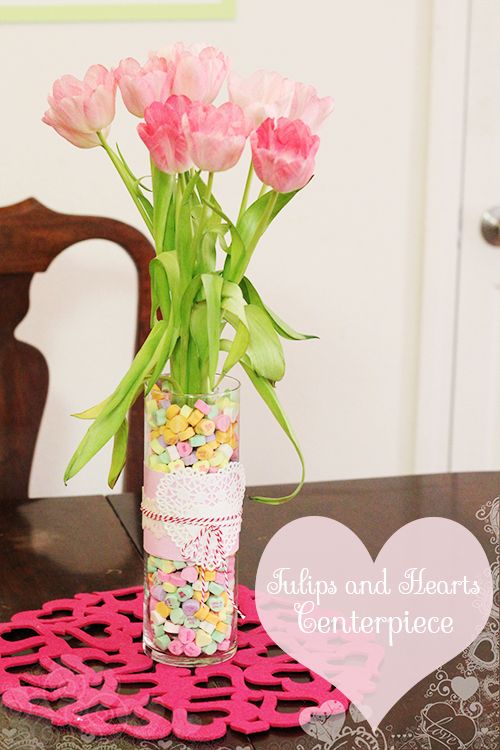 One thing my husband is really good at is getting me flowers for special occasions, and in his book, any day can be a special occasion.  When he was in high school, he had his own business growing and selling unique flowers, so he loves to have them around the house whenever possible.  
Since my husband likes to think out of the box when it comes to his flower picks, of course cut tulips were perfect for Valentine's day!  They can be easily picked up at grocery stores, garden centers, flower shops, etc. Tulips are feminine, cheerful, unique, and colorful. The contrast of bright spring green and pretty pale pink are so pretty, and they reminded me of conversation hearts!  I knew I wanted to put the two together, so I created a simple and sweet Valentine centerpiece with a few basic materials.
To make this centerpiece, you need:
cylinder bud vase
glass cylinder vase, with a circumference bigger than the bud vase
cut tulips (I got mine at my local grocery store while I was picking up dinner ingredients!)
conversation hearts candies
coordinating scrapbook paper, 3″x12″
ribbon
paper heart doily, 4″
baker's twine or colorful embroidery floss
Fill the bud vase with some water and a selection of cut tulips.  
Place the bud vase in the larger glass cylinder vase.
Fill the negative space between the two vases with conversation heart candies.
Wrap the vase with the scrapbook paper and tape it to keep it in place.
Wrap the ribbon around the scrapbook paper and use tape to keep it in place.
Attach the paper doily to the center of the paper and ribbon.
Wrap the vase a final time with the baker's twine, and tie a bow on the front of the paper doily.
Place on your table and enjoy!
I love how sweet the tulips look in my Valentine vase!  They are the perfect pink, and so pretty too.  I brought the centerpiece to a Valentine social for my choir, and so many people commented on the beautiful flowers ( and I saw a few people swipe some hearts from the vase ha ha!!).  
I am so ready for Valentine's Day!  Yay!  For more great ideas on how to use tulips in your decorating, check out this on Pinterest. 
Back to Blog